While we think of dogs as man's best friend, it is common for us to encounter an unfriendly dog that lashes out. Dog owners have a responsibility and duty to train and socialize their pets to ensure the safety of others. Dog bite injuries can be severe, causing long-lasting disability, pain, and emotional distress. You shouldn't have to bear the enormous financial burden a dog bite can cause. Simpson Peterson Lawyers have helped countless clients recover from their dog bite injuries. It is important that you contact an experienced attorney as soon as possible after you have been bitten. Contact our office for a consultation today!
Illinois Dog Bite Law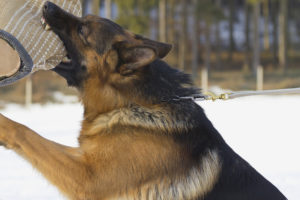 Illinois is a strict liability state for dog bite injuries. Strict liability means that a plaintiff only has to prove that your injuries were caused by the dog bite. The law clearly states that, if any dog bites a person in an area they are lawfully allowed to be, the owner is liable for civil damages that the injury caused. (510 ILCS 5/2.16.) These strict liability laws protect injured parties by eliminating the requirement to prove anything other than the defendant's dog bit them and caused damages.
What to Do After a Dog Bite
If you have been injured due to a dog bite, you may immediately feel frightened and confused on what to do next. If the bite drew blood, you need to be seen by a medical professional. Bites can cause severe bacterial infections, nerve and tendon damage, and bruising and swelling that can limit use. After you have been thoroughly examined by a doctor, contact an attorney at Simpson Peterson. We can assist you in filing your case and receiving compensation for the damages you have suffered.
For more information regarding dog bite injuries, contact Simpson Peterson  today. Call (309)343-6152 or (800)392-4802 for your initial consultation.